The FlixGrade teacher app has a unique data protection concept. The student data remains encrypted on the mobile device. They are automatically deleted after the set storage time has elapsed.
Settings
On the Info page you will find the settings for the entire program. They apply to all classes. The window shown can be found under the menu item "Storage Settings". The maximum storage period for student data is 24 months.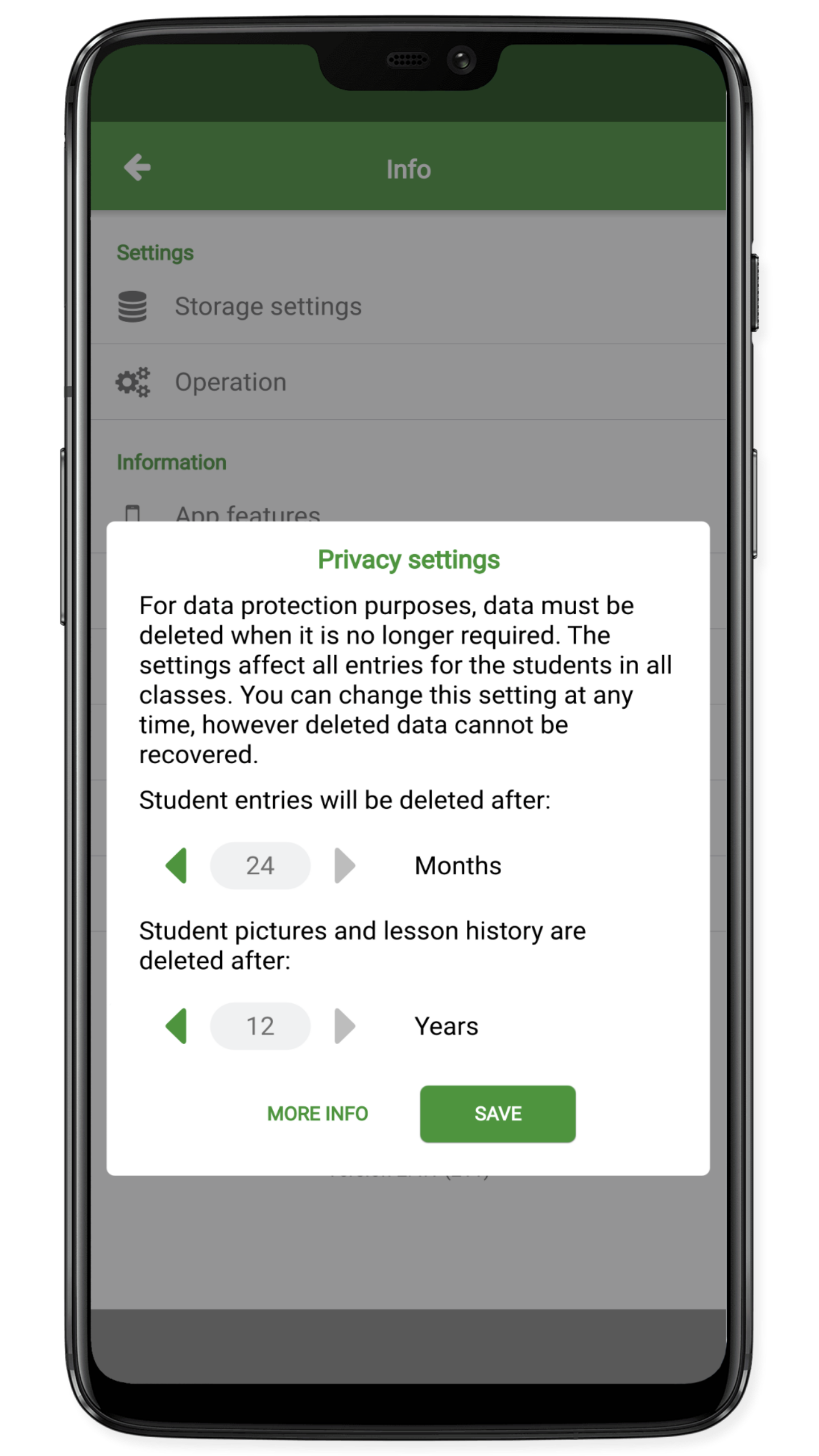 Deleting old data
When restarting the app, it is checked whether data is out of date and should be deleted. If yes, this window will appear. One can prevent the data from being deleted by pressing "Cancel", if necessary.
Privacy Policy
Data
From the outset, FlixGrade is limited to the most necessary data and uses neutral descriptions. To the Example "individual performance assessment" instead of "compensation for disadvantages". A comment field for individual students is deliberately omitted in order to prevent sensitive data from being entered here. It is not necessary to provide an e-mail address. In this way you remain anonymous to Mitarbeitapp GmbH.


Data Protection
The data remain on the mobile device. There they are stored encrypted from iOS8 and Android 6.0. The data are not transmitted to a central server, it cannot be send by emailed, exported or printed. Therefore, the data will not be shared in any way. Because the data are not stored centrally, they don´t represent an economically interesting target.
Note: Do not deactivate the automatic lock on your device.


Backing up the data
The data are secured by backing up the whole devices in the respective cloud of the provider of the operating systems (Apple and Google). For Android we recommend to use the app "Google Drive" for backups. The backup data are transmitted in encrypted form and stored in encrypted. We also recommend to test the procedure of transferring a backup to a second device. So that you know the process in case your mobile device is broken or lost.
Links:
https://support.apple.com/en-us/HT202303
https://support.google.com/android/answer/2819582?hl=en
Note: Make sure your device is backed up regularly.


Deleting the data
All entries for the students are deleted after a defined period of time. Doing so an essential requirement of the GDPR, that data are deleted on a regular basis, is fulfilled. You can define the durability of the data yourself. Default setting for data "shelf life" is one year. In general there is no reason to save the data afterwards. Ultimately, this makes life easier for teachers to comply with the GDPR rules.